October 9, 2019
1615 @ Dupont Circle, D.C.'s Sleekest Meeting Space
There is certainly no shortage of venues for business meetings in Washington, D.C. From waterfront properties to national landmarks and spacious courtyards, deciding on that perfect space to boost team morale or stir up important conversations can be overwhelming.
If you're looking to venture outside the usual hotel meeting space and really shake up the routine for your next annual meeting or team training, consider a unique venue in the heart of Dupont Circle, D.C.'s vibrant historic district.
1615 @ Dupont is a newly opened event and meeting space with four sleek, spacious rooms that can be mended or dressed to fit the theme or style of your next business event. Intrigued? Have a look inside for innovative ways to make this location yours.
Bold Meetings in Dupont Circle
Quite possibly one of the top reasons to consider 1615 @ Dupont, aka the new kid on the block, is its unbeatable location. Dupont Circle has served as a vital presence in D.C. since the 19th century, and it continues to compel residents and visitors alike to discover an exciting array of restaurants, shops, museums and a bustling arts and business scene. Having an event here will put you at the center of all the action, where you will be a part of all that lively energy.
1615 @ Dupont: Open Space, Open Minds
1615 has four incredible spaces, each with their own technology for today's leading presentations, brilliant interplay of natural and complementary interior lighting and ergonomic seating. And yes, there is an endless supply of high-speed internet.
A Conference Room for Inspirational Presentations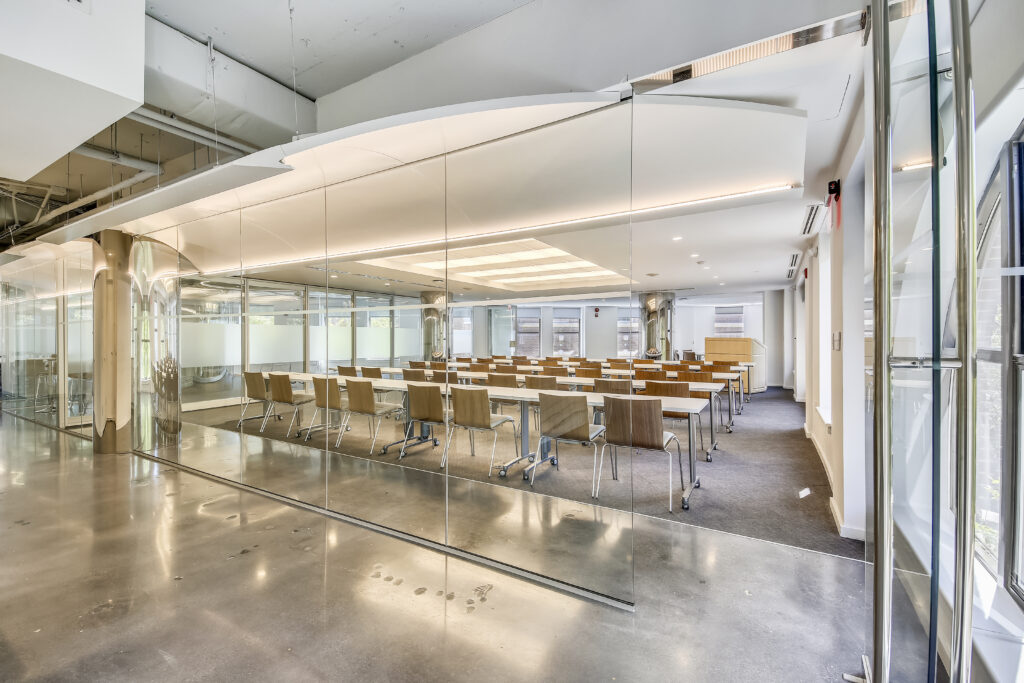 The Conference Room, the largest of all the spaces, is equipped with a presentation podium, built-in audio, a drop-down screen with projector and fully adjustable lighting. All the technology in this classroom setting has been designed for flexibility and ease, so you can easily transition between sessions or talking points.
The conference room is surrounded by glass on all sides, making the best use of light in the room—important for keeping attendees' energy levels high during all-day meetings.
Big Conversations in the Board Room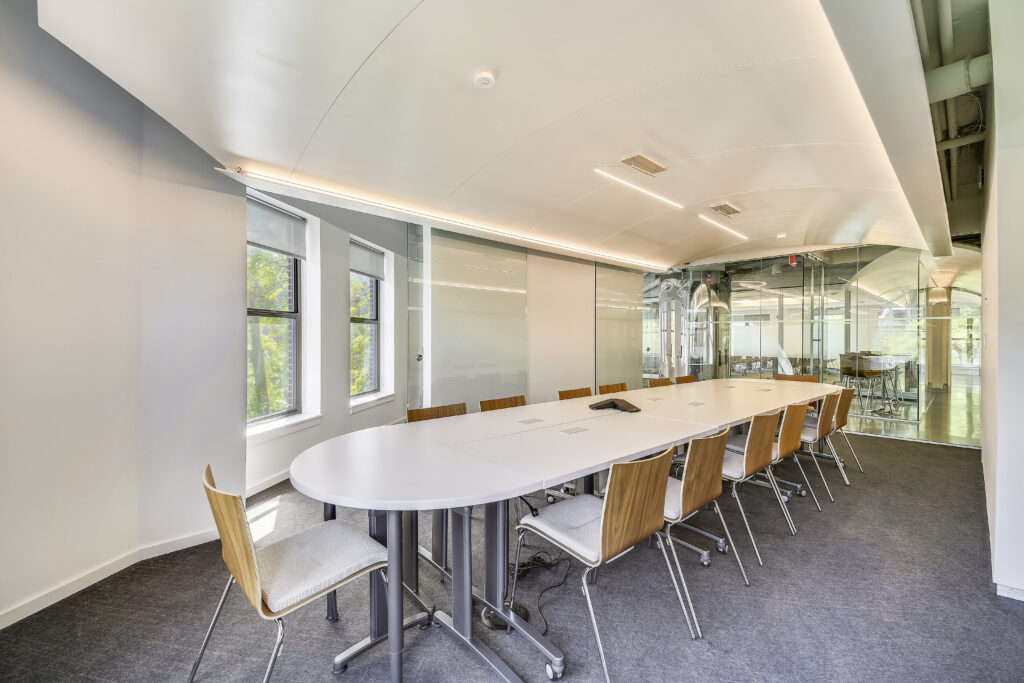 The Board Room is an intimate, blank slate of a meeting space equipped with a flat screen television and speakerphone. It's perfect for smaller meetings of 20, where you have important matters to discuss and you need all minds on deck. At the same time, it's designed for comfort, with ample room for breakfast or a snack station.
Rotunda's Tight Circle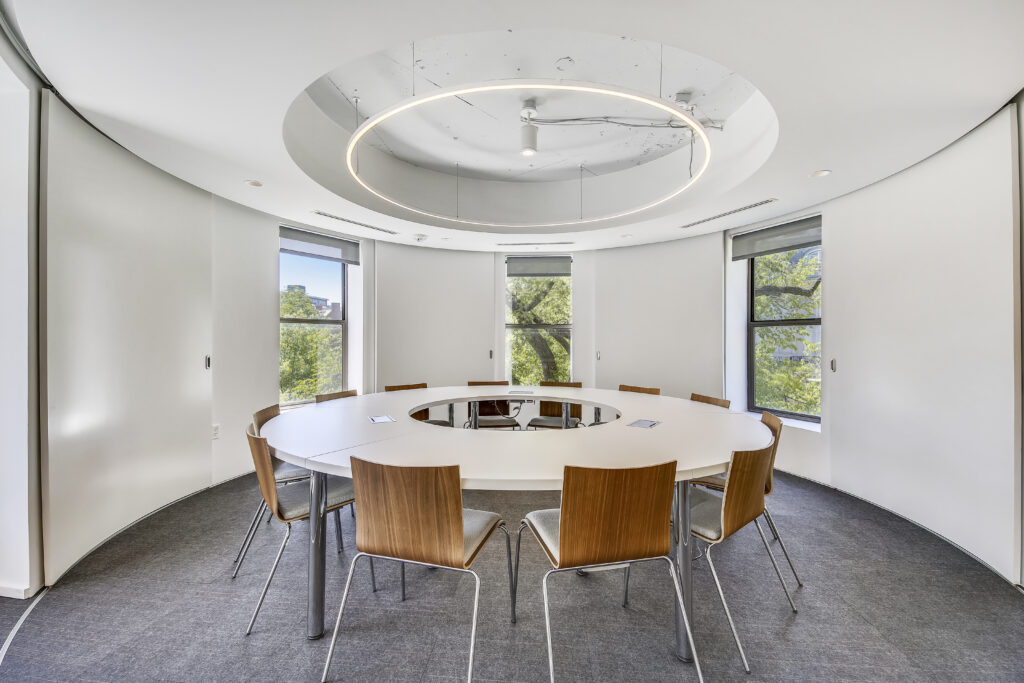 If you have a small but mighty team, consider the Rotunda, a small but comfortable room perfect for your roundtable discussions. The Rotunda is ideal for a private, 10-person meeting. It can even be used for a reception or break area for your guests to stretch, graze and mingle.
 A Spacious Social Area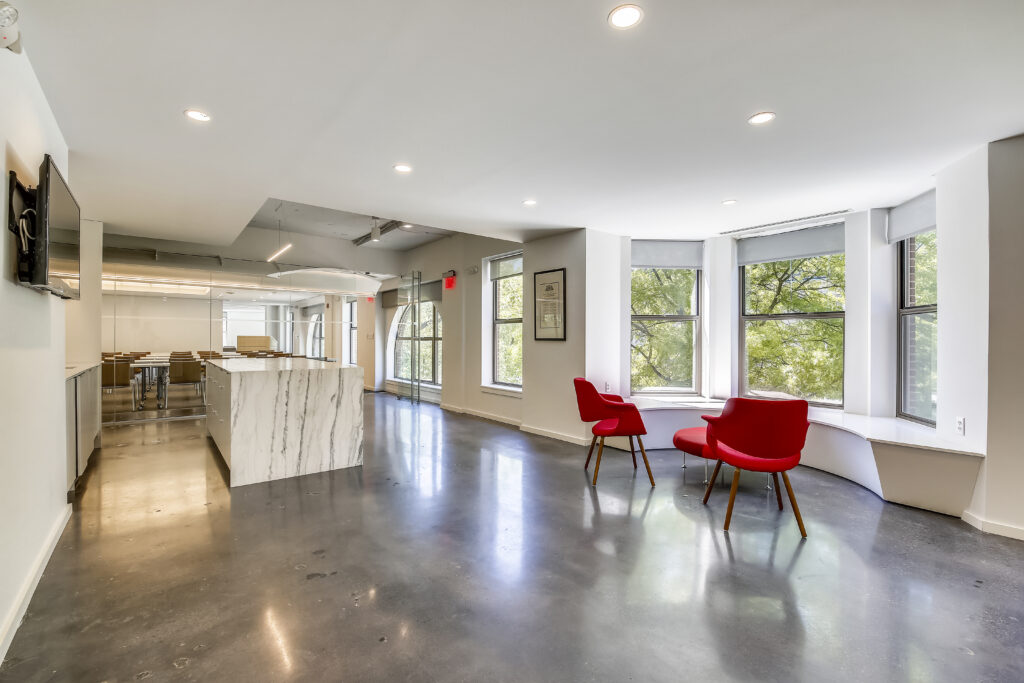 The Social Area at 1615 is a sizeable area for registration, breaks and bar. It can even be outfitted with digital signage. Work with our fantastic on-site planning team to see how you can use lighting, florals, innovative food stations and signature cocktails in inventive ways. They know this space intimately and understand how it can be complemented to fit the theme or style of any meeting or event—from traditional to unorthodox.
Top Event Planning and Catering Services
Our creative planners are eager to hear about your ideas for this vibrant meeting and event space in Dupont Circle. Be ready to discuss possible themes and the ambiance you're seeking to create. We are more than prepared to coordinate with 1615 @ Dupont's staff regarding the time and style of setup as well as any special requests that come to light.
Take a Virtual Tour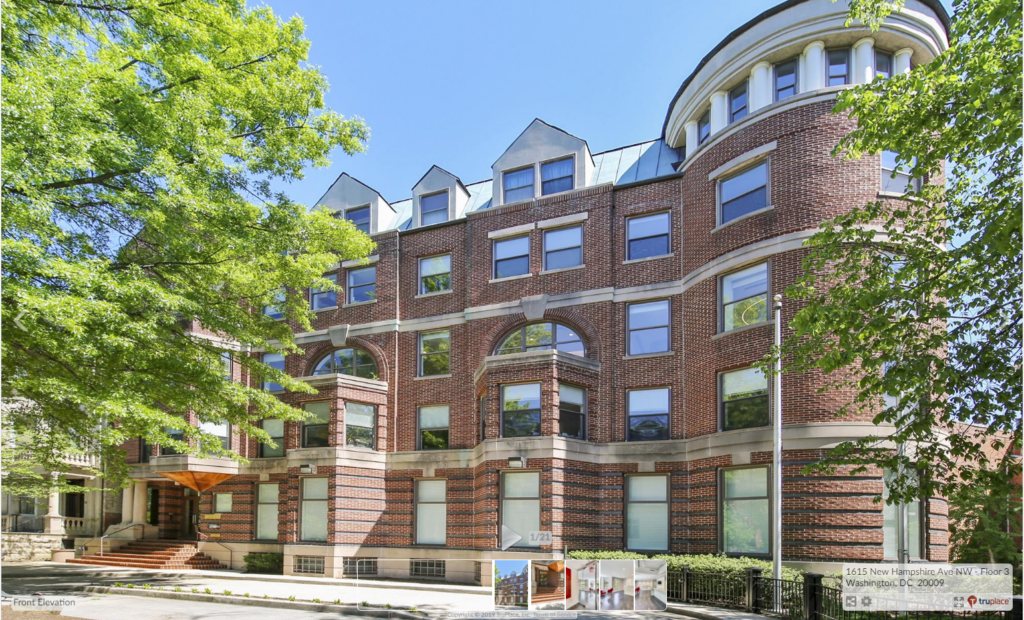 Whether you choose to first contact us online or give us a call at 202.641.4275, we are available for any questions you may have about the space.