October 15, 2018
How to Stage a Photo Shoot For Your Venue Marketing
5 Photo Tips for Your Venue Marketing Material from Venue Management Pros!
When MTG began managing venues we had years of experience in 3 key areas; event planning, marketing and sales.  These have definitely been the touchstones of our success in venue management.  Yet we were not completely prepared for every little nuances of running an event space.  I hope to use this portion of our blog to help other venues to learn from our successes and stumbles.
Here are tips we have learned on how to best stage a photo shoot for all your venue marketing materials.
1. Sketch a Road Map
Before starting a photo shoot for venue marketing purposes, I visualize not just the types of pictures I want, but how and where I will be using them.  Do I need pictures for a new brochure?  online listings? social media? My biggest tip may seem fairly straightforward: have your photographer take a ton of landscape- oriented pictures. Online listings, such as Unique Venues or Wedding Wire, are automatically formatted for landscape pictures.
Another simple, but important tip: be sure to include plenty of entrance and exterior shots.  Even if the venue's best feature is an historic ballroom or rustic barn, potential clients want the full visual of the experience they will have at your venue, from the moment the location first comes into view.
2. Know you Audience
If you are investing time and money (see tip #3) for venue marketing, make sure you are capturing pictures that market to a variety of potential events.  This is especially important if you are a new venue.  If your style shoot includes a bride, centerpieces and all the wedding accoutrements, don't miss this time and opportunity with the photographer to quickly re-stage for a corporate reception.  After the flowery gorgeous pictures are taken, reset with fewer flowers and, possibly, different table linens.  Corporate doesn't have to mean boring or ugly, but a little subtle tablespace editing can go a long way!  See this staged wedding coffee bar turned corporate networking break!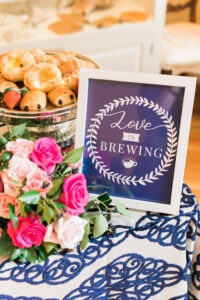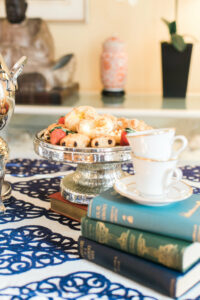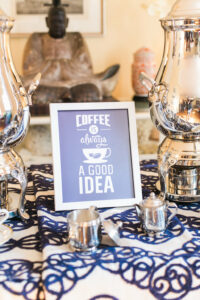 3. DIY
Venue marketing budgets are always tight, especially at the launch of a new venue.  Your biggest investment is the first set of venue photos, but that doesn't have to mean spending lots of money or asking huge vendor favors.  Use what you have already at the venue.  Call in your frendors (friends + vendors).   Up and coming photographers may want new pictures and venue credit for their social media.   Find photographers who are interested in a fair, beneficial "trade-out".  Ask your friends to model as wedding couples or corporate dinner guests.  Always remember, perfection is the enemy of the good.  Have fun with what you have and it will show in the pictures.  See more of my DIY tips in a future blog.  Below, our Frendors Hannah, Rosi and Rebecca at Kir's Congressional Club photo shoot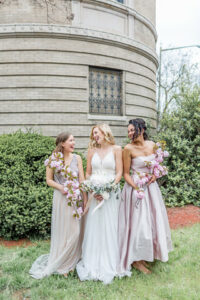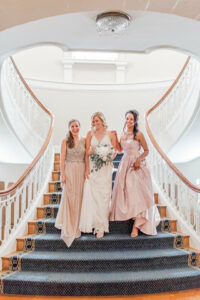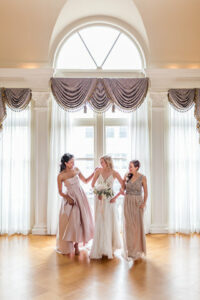 4. Focus on the Big Picture While Capturing the Details
Of course you need pictures of the larger space for proper Venue Marketing, but don't overlook the smaller details.  In the day of Social Media (especially Instagram) and Content Marketing, venues need to tell the client a story about why they should hold their event at your location.  It is not enough to have the ballroom shot, you need close-ups of the table setting or the rest room wallpaper or the darling niche that will be just perfect for a Bloody Mary bar!  Couples and Event Planners need to see all they hope to experience!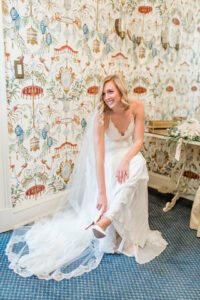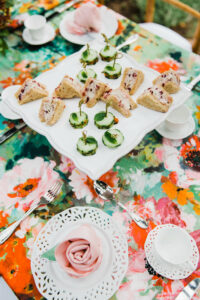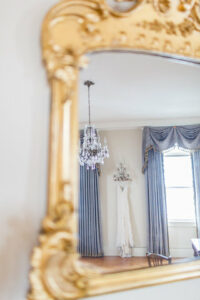 5. Plan Ahead to Allow for Artistic Spontaneity
Make a list of all the photos you definitely want for your venue marketing.  At the Congressional Club, I knew I wanted the ballroom set for a wedding ceremony and I also wanted more pictures of the First Ladies table linens. After that was out of the way, it was time for some spontaneity; Kir, models Hannah Bjorndal, Rosi Guyton, and Rebecca Wilcher proceeded to do their THANG!   And look at a few of the amazing artistic pictures that we got.
Also, allowing your photographer room to freely express their creativity can pay off in BIG ways.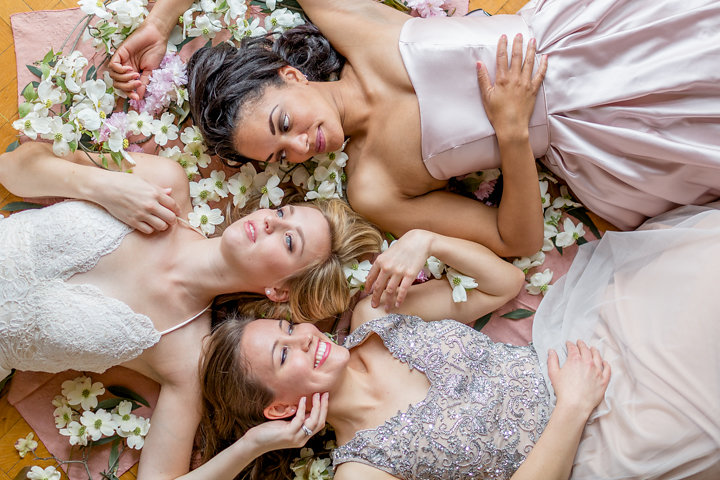 Kir's artistic shots!
Sometimes you get that ICONIC Venue shoot that captures the essence of your location.  You can't plan for that; thank you Amanda!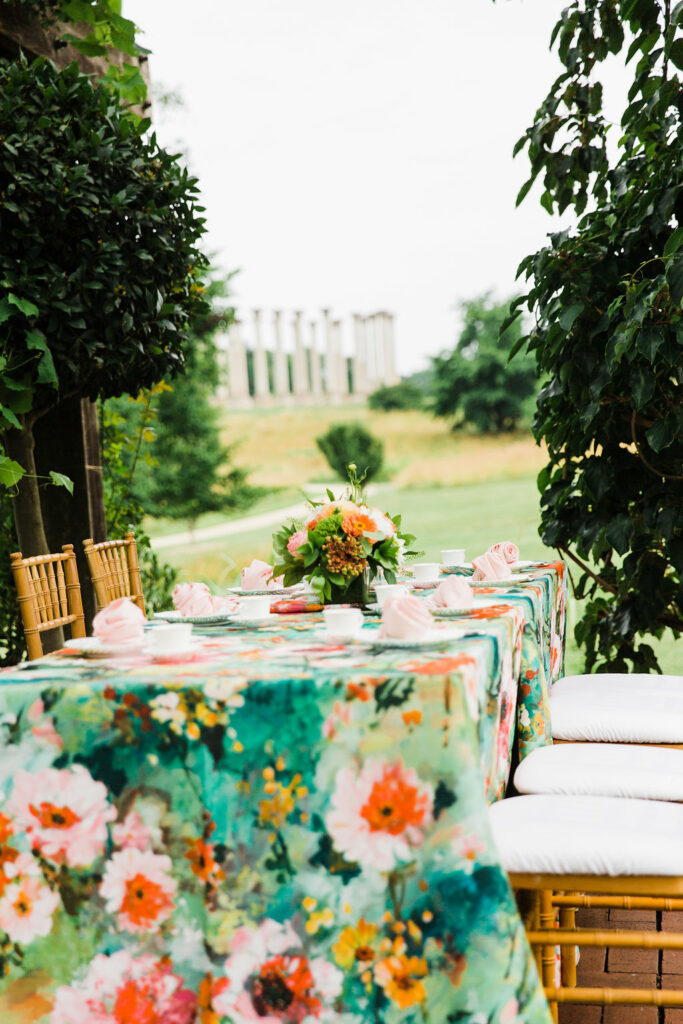 Amanda Reynold's iconic Arboretum photo
CREDITS
National Arboretum Photos:
Photographer: Amanda Reynolds of Plume Photography
Styling: Jane Visser
Congressional Club Photos:
Photographer: Amanda Reynolds of Plume Photography
Photographer: Kir Tuben Photography
Models (also amazing Photographers!): Hannah Bjorndal, Rosi Guyton, and Rebecca Wilcher
Styling: Sincerely Pete
Gown: Elegance By Roya
Bridal Accessories: BHLDN Weddings
Bridesmaid's Dress: Adrianna Papell
Florist: Alisa Rabinovich of Galleria Florist